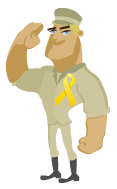 Go figure - there's a shortage of water in the desert. In the PJ years (pre-jolt), this could have been a problem.

It's not like it's easy to brew up a pot of java in a cave outside Kandahar.

Ahh, but now there's
help. Yep, Jolt Gum.
GET FREE GUM!!!! Call us, fax us, send us a FB message, email, tweet, youtube video, carrier pigeon, paratrooper…. And tell us why your unit should get a whopping care package of Jolt Gum and mints. Every month, we'll pick one and send the stuff on its way to you. Just have a military address for us to ship it to.

If you're stationed somewhere in the Middle East, Asia, Africa, Europe, Afghanistan (or someplace you're not allowed to discuss), and your unit isn't being plied with free gum, no worries! EVERY order of Jolt Gum or mints going to an APO or FPO address gets free shipping. We also throw in a few extra free packs as the smallest of thank you's for what you do.

Supporting the troops is nothing new at GumRunners; back in 2004, when our company was getting started, one of the first things we did was send about 25,000 free packs of Jolt Gum overseas. It humbles us to realize what our servicemen and women achieve and endure in support of our nation The tagline for Jolt Gum is "Chew More. Do More," Who does more for our country then the members of the armed forces?"

Good luck and get home safely.